Multiple ear piercings are everywhere these days. The joy of having multiple piercings on your earlobe or outer cartilage is the chance to change your look to match your mood or occasion. From a clean line of classic graduated pearls to a fun mix of hoops and studs, multiple piercings are a great way to express your personal style.
If you are thinking about multiple ear piercings, here are a few things to consider before getting that second (or third, or fourth) ear piercing.
Timing
If you know that you want multiple piercings, it is possible – even preferable – to get more than one piercing on your earlobe or outer cartilage in a single sitting. The only factor that will determine how many piercings you can get at one time is the space available on your ear.
If you had an ear piercing recently, it's a good idea to wait for your piercing to heal before getting a second hole. For earlobe piercings, there's a six week healing period before you can start swapping out earrings. For cartilage piercings, you have 12 weeks until you can safely change your earrings.
Style
What's the major reasoning behind getting your first or second ear piercings? To express your style, of course! Before heading out to get your ears pierced, think carefully about the types of earrings you want to wear. This will help your ear piercer determine where best to place your new piercings.
Spacing
No two ears are alike – even on the same head! The size of your ear and the types of earrings you want to wear will determine how many piercings you can fit on your ear and how much space you should put between each piercing hole. If piercings are made too close together, you may have trouble fitting the earrings you want to wear. More importantly, if the holes are pierced too close together, there is a risk they will merge into one, causing a tear.
Earlobes
Earlobe piercings can be made on the soft tissue of the lobe, ending just before the hard cartilage begins. To determine best placement, your ear piercer will feel your earlobes to determine how much soft tissue you have available for piercing. Using your primary earlobe piercing as a starting point, second (and third and fourth if there's room) earlobe piercings should be spaced evenly up the line of the earlobe about ¼" apart.
Outer Cartilage
Outer cartilage piercings can be made just inside the curl where the cartilage tissue is flat and open. As with earlobes, the number of outer cartilage piercings you can have is determined by the size of your ear and amount of flat cartilage tissue available. Outer cartilage piercings should also be made about ¼" apart.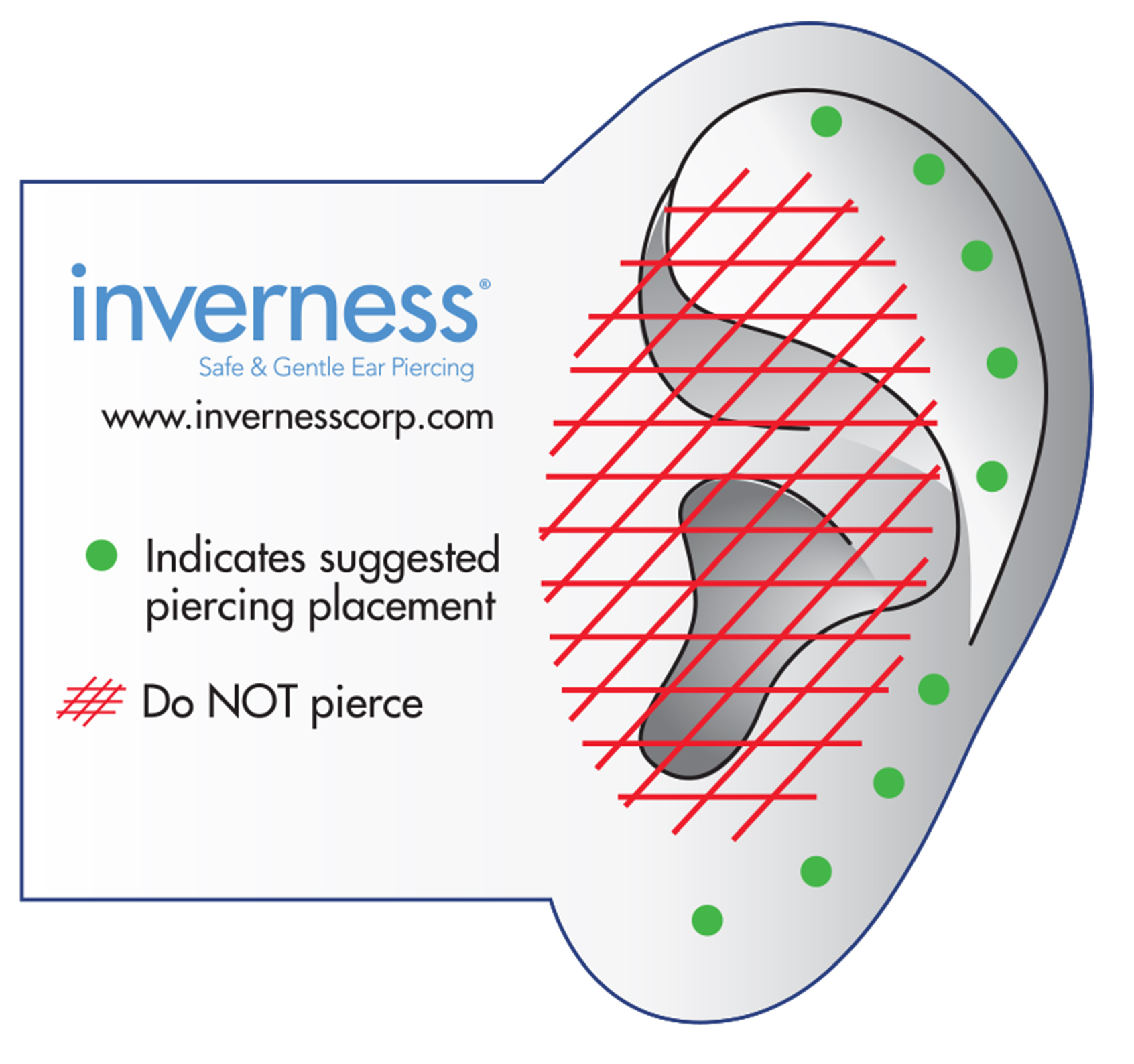 Placement
At the time of your piercing, your piercing professional will evaluate the size of your ears and discuss preferred placement with you. Next, they will make placement dots on your ears with a surgical marking pen and provide you with a mirror so that you can review and approve the marks. If you are not happy with the placement of the dots, your ear piercer will clean off the dots with an alcohol wipe and start again.
Location
Still in planning mode for your next ear piercing or are you ready to pierce? Visit our store locator page to find an Inverness ear piercing location near you. The Inverness System is used by salons, doctor's offices, jewelry stores, and department stores throughout the U.S. and in over 40 countries around the world.
Please note: some locations using the Inverness Ear Piercing System are not listed on our store locator. If you don't see an Inverness ear piercing location that works for you, please contact us, and we'll be happy to find one for you!