From people you can always trust to be there.
Frequently Asked Questions
Ear Piercing for Babies & Children
Yes. Babies are pierced at a very young age worldwide. Inverness recommends that parents wait until after the first DPT vaccination which is usually administered at 8 weeks.  However, this is a personal decision, and we recommend that you discuss your plans with your baby's pediatrician before piercing.
1. Do your homework. Make sure to choose a location that carries the Inverness System. Only Inverness piercing earrings have our exclusive Safety Back™ to shield your little one from the earring's sharp piercing tip.
2. Consider selecting a location that is able to provide two associates to pierce your child's ears simultaneously. The Inverness System is ideal for babies because it is extremely fast and quiet. Simultaneous piercings make the process even easier for children and their parents.
3. Celebrate and record this happy milestone, and be sure to Share Your Piercing Story with us!
Cartilage & Other Piercings
No. The Inverness Ear Piercing System is designed to pierce the earlobe and the outer cartilage of the ear. Our system should never be used to pierce any other body parts.
Yes. Cartilage ear piercing with the Inverness System is just as gentle as a lobe piercing.
Cartilage is the strong, flexible tissue located in the upper portion of the ear. Cartilage differs from the earlobe primarily in that it has a limited blood supply. The diagram below shows where it is safe to use the Inverness System to pierce outer ear cartilage and the earlobe.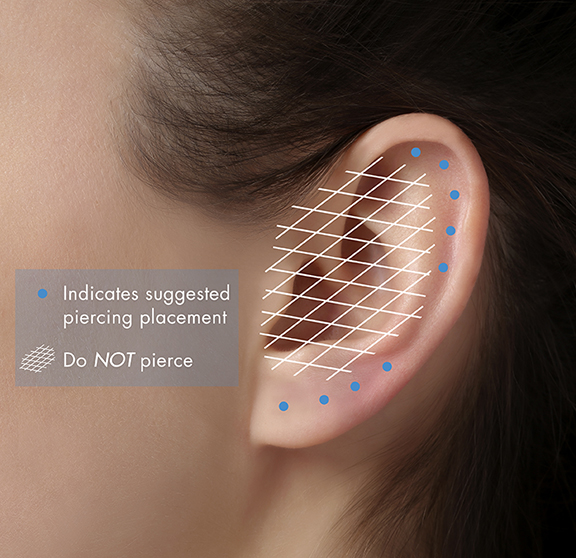 Tips for Newly-Pierced Ears
The average healing time is 6 weeks for an earlobe piercing and 12 weeks for a cartilage piercing.  We recommend leaving your piercing earrings in and following your aftercare instructions for the entire healing period. For tips & more information about what to expect after you have your ears pierced, visit our After Care Tips & Timeline
You should only switch into new earrings after the healing period: 6 weeks for an earlobe piercing and 12 weeks for a cartilage piercing. Newly-pierced ears are very sensitive and require special care and attention. If you take your earrings out for any length of time during the healing period, the holes may close or you may find it to be very difficult to re-insert earrings into a piercing hole that has not fully healed.