Before we talk about what to look for in a piercing earring, we should explain what a piercing earring is. Piercing earrings are stud style earrings that are specially designed with a sharp tip to pierce the earlobe or outer ear cartilage. Most piercing earrings are pre-sterilized and packaged in a special cartridge designed to be loaded into a piercing instrument for the piercing process.
Another term you may hear to describe piercing earrings is "starter earrings" since these stud style earrings are kept in the ear while the new piercing heals. It's important to choose piercing earrings carefully since you will be wearing them for a minimum of 6 weeks for an earlobe piercing or 12 weeks for an outer cartilage piercing.
Here are important features to consider when choosing your piercing earrings:
Safety & Sterility
Piercing earrings should come in pre-sterilized in tamper-resistant packages. There are a variety of sterile piercing earring options available, but Inverness is the only ear piercing system to offer fully-enclosed sterile capsules that protect our piercing earrings from exposure to potential contaminants once they are loaded into our instrument for piercing.
Metal Choices
Before you look at earring styles, be sure the piercing earring you are considering is made of hypoallergenic metal that conforms to the most stringent international standards for nickel release*. Many people prefer classic 14KT gold for piercing earrings, but you can also find beautiful hypoallergenic piercing earrings in medical grade stainless steel, 24KT gold plate over medical grade stainless steel, and medical grade titanium.
*All Inverness piercing earring metals meet or exceed the current European Union Regulation (EC) No 1907/2006 (Entry 27, ANNEX XVII of REACH) for nickel content.
Craftsmanship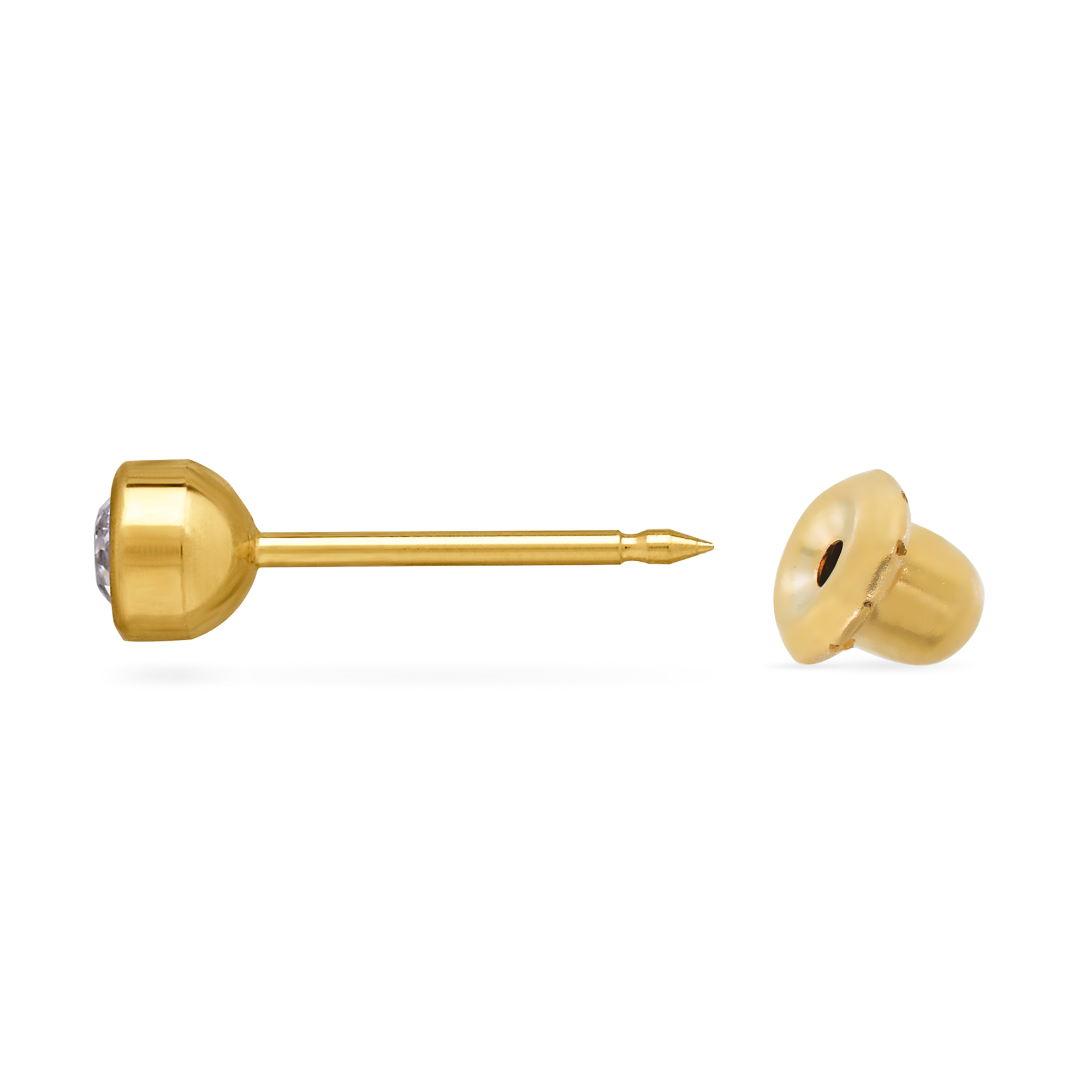 Good quality piercing earrings have special features to ensure the piercing earring will glide smoothly through your earlobe or cartilage with minimal discomfort. A blunt tip, thick post, or plastic coating can create a painful piercing experience. Inverness piercing earrings are made from premium hypoallergenic metals with ultra-thin piercing posts and a finely-honed tip for the gentlest piercing experience possible.
4. Earring Back
Every piercing earring comes with an earring back to keep it in place. Traditional butterfly backs are most common. Inverness piercing earrings are the only ones that come with the exclusive Inverness Safety Back™ designed to cover the sharp piercing tip and prevent the earring back from being squeezed too tight during healing.
Style
Once you are confident that the piercing earrings you are choosing are safe, sterile, and hypoallergenic, you can have fun choosing the look that best expresses your personal sense of style. Inverness piercing earrings come in a range of styles in every color of the rainbow and are embellished with sparkling crystals or brilliant cubic zirconia. Our premium quality piercing earrings can be worn long after your piercing heals.
If you have any questions about piercing earrings or the Inverness ear piercing process, please visit our website or contact us.  Happy piercing!