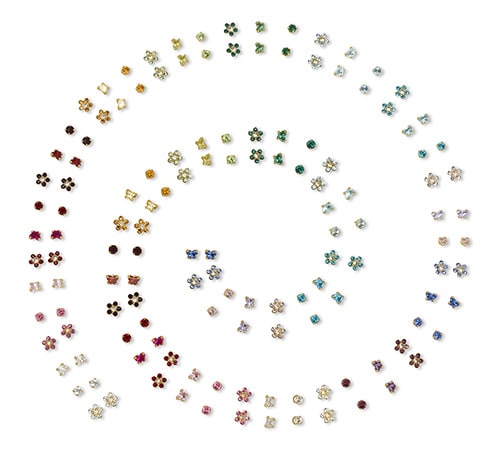 The time has come; you're ready for your first ear piercing. You've already used the store locator on the Inverness website to figure out where you'll be going for your piercing, and all that's left is picking out your first pair of piercing earrings. How do you choose? We're here to help!
Our Metals
Before you choose your earring style, it's important to know which metal is right for you.
All Inverness piercing earrings are available in a wide range of hypoallergenic metals including 14KT gold, 24KT gold plate, medical grade stainless steel, and medical grade titanium.
All of our gold products have very low nickel content – less than 0.05%. Since nickel, a common metal allergen, is used to strengthen many metal alloys, ALL Inverness piercing earrings meet the most stringent global standards for nickel release requirements (European Union Nickel Release Directive 2004/96/EC, No. 1907/2006, REACH Annex XVII)
Our surgical grade titanium earrings are 100% nickel-free, providing maximum peace of mind for people with known nickel allergies.
Substance
Next, it's important to know how your piercing earrings were made and the materials that they're made of. All of our piercing earrings are made with only the best materials available, and they come with ultra-thin piercing posts & an extra-sharp tip for the gentlest piercing possible.
Style
Of course, style is one of the first things we all think about when choosing earrings you'll be wearing for the next 6-12 weeks while your piercing heals. Once you've determined which metal is best for you, have fun choosing your style. Inverness has piercing earrings that are as unique as you are. We have styles available in every color of the rainbow in a range of sizes and metal choices to match your look and your budget.
Safety & Sterility
You can always count on Inverness for a safe and gentle piercing experience. Our piercing earrings are packaged in sterile, tamper-resistant cartridges. Each individual earring & Safety Back™ is fully-enclosed in our sterile earring capsules to guard against exposure to potential contaminants prior to piercing.
From start to finish, ear piercing with the Inverness system is designed to be as carefree and easy as possible.  We hope this blog post helps you determine which piercing earrings are perfect for you! If you're interested in learning more, visit our website.