Are you thinking about having your ears pierced? One of the most important factors to consider is the ear piercing studs that you will be wearing for your entire healing period. Here are four features to review before making your final choice:
Metal Options
Craftsmanship
Earring Back Style
Ear Piercing System
Metal Options
Metal is the most important element to consider when choosing an ear piercing stud. To reduce the risk of metal allergy, be sure the piercing stud you choose is made of high quality, hypoallergenic metal. 14KT gold is the most popular choice, but there are many hypoallergenic options available if 14KT gold isn't your style. Other good choices include 24KT gold plate, medical grade stainless steel, and medical grade titanium.
If you have a known nickel allergy, it's important to choose titanium, the only option that is 100% nickel free. Since nickel, a common metal allergen, is used to strengthen most metal alloys such as 14KT gold, stainless steel, and 24KT gold plate, ALL Inverness ear piercing earrings meet the most stringent global standards for nickel release requirements (European Union Nickel Release Directive 2004/96/EC, No. 1907/2006, REACH Annex XVII).
Our surgical grade titanium earrings are 100% nickel-free, providing maximum peace of mind for people with known nickel allergies.
Craftsmanship
When you have your ears pierced with a system like Inverness, the piercing stud you choose is designed to pierce and remain in your ear for your entire healing period (6 weeks for a lobe piercing and 12 weeks for cartilage). The beauty of a well-crafted piercing stud is that it can be worn long after your new piercing has healed.
Inverness piercing earrings are fine jewelry quality and designed both for style and comfort. Our piercing earrings feature an ultra-thin piercing post and finely honed tip that provide a gentle piercing experience by ensuring the earring glides easily through your earlobe.
Earring Back
The earring back or "clasp" ensures your piercing earring stays in place while the piercing heals. Most piercing earring studs come with a standard "butterfly" back which leaves the sharp earring post exposed and can be squeezed too tight against the ear during healing.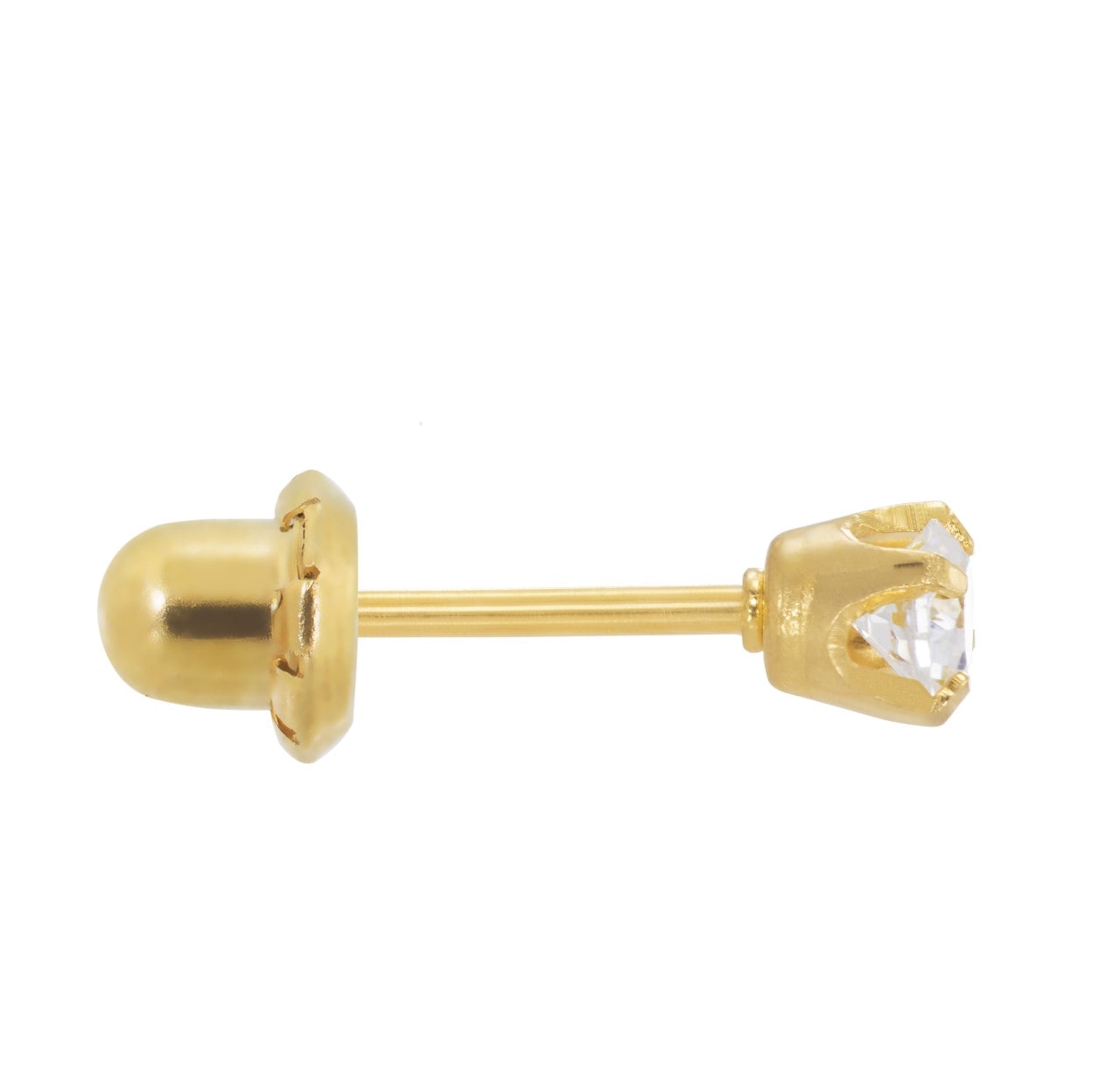 For safest healing, the earring back should provide ample air space around your new piercing and prevent overtightening which increases the risk the earring will become embedded during healing. Only Inverness piercing studs feature the patented Inverness Safety Back™ which covers the sharp piercing tip and prevents the back from being squeezed too tight.
Ear Piercing System  
Finally, before you choose an ear piercing stud, it's important to understand the piercing system used at the location you are considering. There are many options available for piercing ears in a variety of locations around the world.
Single step "stud and clasp" systems such as Inverness use pre-sterilized piercing earrings designed to pierce the ear and secure the earring back in one easy step. But all ear piercing systems are not the same. Inverness is the only system with sterile piercing earrings that are fully-encapsulated to prevent exposure to possible contaminants prior to piercing.
If you're interested in having your ears pierced with the Inverness Ear Piercing System, you can learn more on our website. Be sure to visit our store locator to find the most convenient location near you.