[vc_row][vc_column][vc_column_text]
There are many important factors to consider before having you or your child's ears pierced. To help you make the choice easier, here are
5 Things You Must Know before Getting Your Ears Pierced
.
1. Choose the Location That's Right for You
Ear piercing is an important rite of passage, and many people choose to celebrate the event with friends and family at a retail store that offers ear piercing. Others prefer the quiet and privacy of a doctor's office or beauty salon. Thankfully, advances in ear piercing equipment have made it possible to have your ears pierced safely in any of these locations, leaving you free to choose the location that best meets your needs.
[/vc_column_text][vc_row_inner][vc_column_inner width="1/4″][vc_single_image image="358″ img_size="236×235″ alignment="center"][/vc_column_inner][vc_column_inner width="3/4″][vc_column_text]
2. Know What Ear Piercing Equipment is Being Used
Whether the piercing is for you or your child, safety and sterility come first. It's important to understand the ear piercing choices available. As you shop for an ear piercing location, ask what ear piercing system they use. The most common are:
Hollow needles or "cannulas" that remove a core of flesh to pierce the ear. These are most commonly used in body piercing parlors.
Spring-loaded piercing guns that are loud and pierce the ear by "shooting" the earring through the earlobe.
Hand-pressured piercing instruments, like the Inverness System, that provide a quiet, gentle, and accurate piercing using a fully-encapsulated, sterile piercing earring. Click here to see more about how the Inverness System works.
[/vc_column_text][/vc_column_inner][/vc_row_inner][/vc_column][/vc_row][vc_row][vc_column][vc_column_text]
 3. Choose the Right Earring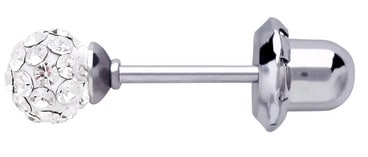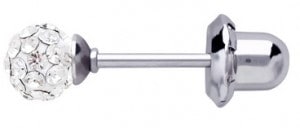 By far, the most fun part of the ear piercing process is choosing your piercing stud. Whether this is a first, second or even third piercing, this earring will need to stay in place for the entire healing period (6 weeks for an earlobe piercing and 12 weeks for cartilage) – so be sure to choose a style you love.  Here are some other important factors to consider:
Quality Craftsmanship – the piercing earring post should be ultra-thin with a fine point to enable the piercing earring to glide smoothly through the earlobe with minimal discomfort.
Check Your BACK – standard butterfly clasps require adjustment following the piercing and leave the sharp tip of the piercing earring exposed.  The patented Inverness Safety Back™ shields the tip of the piercing earring and can't be overtightened. This allows for optimal airflow and promotes safer healing.
Hypoallergenic Metal Choices – be sure that the piercing earring you choose is made of premium hypoallergenic metals that conform to the highest international standards for nickel content. 14KT gold is the ideal choice, but quality hypoallergenic piercings are also available in Medical Grade Stainless Steel and 24KT Gold Plate. For people with a known nickel allergy, the safest choice is Medical Grade Titanium.
Safety & Sterility – ask to see how the piercing earrings are packaged prior to piercing. Only Inverness piercing earrings are fully-encapsulated and packaged in sterilized cassettes to prevent exposure to contaminants prior to piercing.
4. Make Sure Your Piercer Has Been Trained Properly
After you've selected an ear piercing location, talk with the piercer to find out about their training and experience. If you are choosing a location to pierce your child's ear, be sure to ask if they have any tips to help you prepare your child for the big event.
5. Safe Healing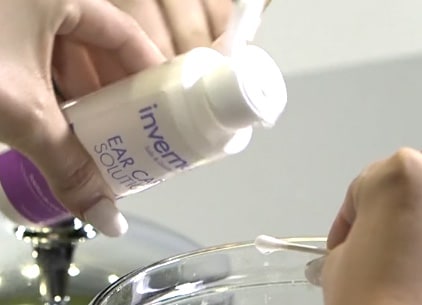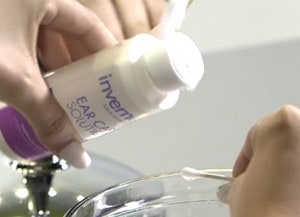 Ear piercing aftercare is as important as the piercing itself. For safer healing, remember to keep your piercing site clean. Always wash your hands before touching your earring or cleaning the piercing site.
Cleaning
It is important to clean your ear piercing at least three times a day using an aftercare solution formulated for the care of pierced ears. You should also turn the earrings one full rotation at least three times a day.  More details and tips for safe healing can be found here.
Ear piercing healing times are determined by the type of piercing you have:
Lobe Piercing – leave piercing earrings in the ears for 6 weeks. Do not remove the earrings during this period.
Cartilage Piercing – leave the piercing earrings in the ears for 12 weeks. Do not remove the earrings during this period.
To Prevent Your Piercing from Closing
For the first 6 months after your piercing is healed, you should not go without earrings for more than 24 hours or your piercing may close. For cartilage piercings, it's best to wear earrings at all times to prevent your piercing from closing.
We hope you have found these tips to be helpful. For more information or to find the Inverness Ear Piercing location nearest you, visit www.invernesscorp.com[/vc_column_text][/vc_column][/vc_row]