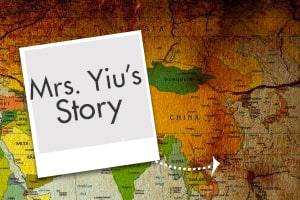 Here is Mrs. Yiu's story in English, with the original Chinese below:
Finally, I have my ears pierced.
My classmates went to have ear pierced during middle school. I told my friends that my earlobe was so beautiful and I dared not to break it? … Actually, I am afraid of pain.
In College, students were encouraged to accept themselves and to behave as a real me. Why am I attracted to go ear-piercing, it is against my own "will"? I'm so afraid of pain … Also I'm really worried about the pain after ear piercing that can induce panic … I may rush to pull out the earrings and stew in my own juice … Therefore, ear-pierced for me is a challenge.
After three years consultation by a leading clinical psychologists, I thought … How about … Try it … Or I simply won't hurt, pain will not make me panic! And I'd get up the courage to pierce my ears!
Accompanied by my friend, I went to a jewelry shop, expressed my intention, and then sit down, waiting in silence. The staff sterilized my earlobe, and then pointed the ear-piercing position with a pen. And then … … "Crack!"
Shop assistant had already pierced my left ear with an ear-piercing instrument! I have not had time to react any faster! "Well…Really not hurts … Only feel a bit of hot through stabbing at high speed. "And I'd feel comfortable letting her to pierce another ear.
When I got home, my friend and I focus on Olympic events, and my ears never feel hurt again.
I frequently apply ear drops. During the first week, I apply ear drops in the morning, noon and before go to bed. In the second week only in the morning and evening, the third weeks only after bath, the ears are not really inflamed.
Now it is already more than a month and I just have a little redness in my ears. I only apply ear drops when I accidentally hurt my ear during changing clothes or sleeping. Also I will take off the earring clutch every couple of days, to clean the back of my earlobe. In about a week I will take off the earrings and clean the ear and the earrings thoroughly. So far the earlobe is okay, there is no inflammation.
Best of all is that I broke the psychological barrier, I can wear pretty earring!
終於,我穿了生平第一對耳洞。
剛穿好耳洞的時候拍的,耳珠有一點點紅。
中學時,同學都去釘耳。我告訴別人,我的耳珠很美,肥大肉厚,幹嘛要把它弄破?其實…我很怕痛。
大學時,輔導學都鼓勵同學接受自己,做最真實的自己。那我為甚麼要違背自己的"意願",和怕痛的自己打對台,走去穿耳呢?我真的很怕痛…
而且,我真的很擔心在打耳洞後耳朵的痛楚會誘發panic attack…我發狂的急著要拿走耳環,又要承受恐慌發作,那便自作自受了…
所以,打耳洞對我來說是個挑戰。
就在我接受了三年,由一個優秀臨床心理學家進行深入的心理輔導後,我心想…不如…試試吧…或者我根本不會痛,痛也不會引發恐慌呢!
於是我便鼓起勇氣去穿耳了!
在姚生陪同下,我去到一家飾品店,說明來意便坐下,靜靜等候。
職員為我消毒耳珠,然後用筆點下釘耳的位置。
然後……「啪!」
店員用釘槍為我的左耳釘了個耳洞! 快得我也沒來得及反應!
「咦……真的不痛啊……只有少少被耳環高速穿過時的刺熱感。」
於是我便很放心的讓她穿右耳。
回家後,我和姚生便專注看奧運比賽項目。然後,我的耳朵便一直也沒痛過。
我勤力的滴耳藥水,第一星期早晚和中午都有滴,第二星期早晚滴,第三星期洗澡後才滴,果然沒有發炎。
現在已經個多月了,我只在耳朵看似有點紅腫,或換衣服或睡覺時不慎拉扯到耳珠有點點痛時才滴。
每隔數天更脫下耳環托,於洗澡時清潔耳珠背後;大約一星期會把耳環脫下徹底用藥水清潔耳環及耳珠。
所以,現在耳珠還好喇,沒有發炎。
最開心的是,我衝破了心理障礙,可以帶靚靚耳環了!