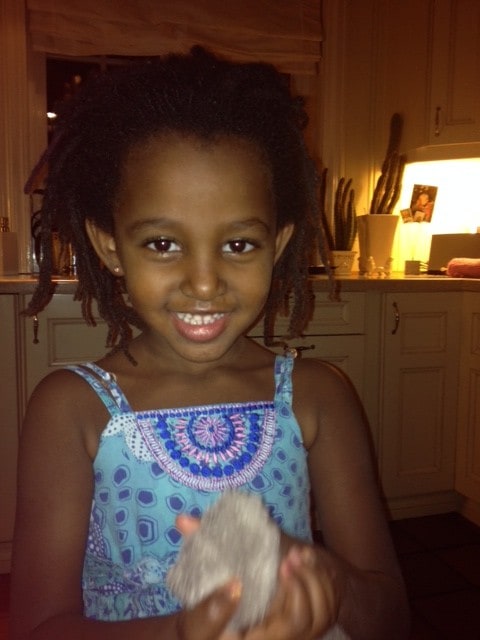 Here is Mathea's story in the original Norwegian with the English translation below:
Å ta hull i ørene var en stor milepæl for Mathea! Mathea har 2 eldre kusiner som begge fikk hull i ørene da de var 5 år.
Nå har Mathea ventet et helt år på å feire sin 5 års dag OG å få hull i ørene!
Matheas tante, som driver en frisørskole, har lovet å ta hullene. Selv om hun har fortalt Mathea at det kan gjøre litt vondt, er Mathea fast bestemt på å gjennomføre det! Dagen før den store hendelsen, forteller Mathea alle i barnehagen at hun skal reise til sin tante Birgit og få hull i ørene!
Da tante Birgit tok henne med på badet, var Mathea litt redd, veldig spent men mest stolt! Hun gråt litt etter at det første hullet var tatt, men da hun så den skinnende rosa øredobben i øret, bad hun om å få tatt det andre med en gang!
Hele helgen lengtet Mathea etter mandag, sånn at hun kunne vise de nye øredobbene til alle i barnehagen. De gav henne all den oppmerksomheten hun hadde håpet på, og nå stråler hun i kapp med sine nye øredobber!
English:
To have her ears pierced, really was a milestone for Mathea! Mathea has 2 older cousins, and they both had their ears pierced at the age of 5.
Now, Mathea has waited for a year to finally celebrate her 5th Birthday AND to have her ears pierced!
Mathea's aunt, who runs a hairdressers school, has promised to do the piercing. Even though she has told Mathea that it might hurt just a little bit, Mathea is very determined to go through with it! The day before the big happening, Mathea tells everyone at the kindergarten that she is going to her aunt Birgit to have her ears pierced!
When aunt Birgit took her to the bathroom, she was a little afraid, very excited, but most of all: very proud! She started to cry a bit after having the first ear pierced, but when she saw the shiny pink earring in her ear, she asked to have the other ear pierced right away!
The whole weekend, Mathea longed for Monday so that she could show the earrings to everyone at the kindergarten. They gave her the attention she was hoping for, and she is now shining as bright as her new earrings!